Hotel IPTV

 NevoTV is an interactive IPTV software with TV, video streaming and other useful functions which are used in the hospitality and health industries.
Product Features
Brand Logo on TVs set up in hospitality or hotel rooms
Setting up guest-preferred language and special features
The guest name on the welcome screen
Full integration with the Property Management System (PMS) or HIS / CIS
Hotel IPTV Solution
Direct Messaging via TV
Smart Room Functions such as adjusting curtains, lights, A/C and etc.
TV Smoke Alarm  (connected with Building Management Systems)
Mobile devices integrations (Smart Phones, iOS, and Android tablets)
Gift shops on TV with auto-charging
View room billing info ( with PMS connection )
Staff services through TV menus
Multiple properties are supported
Multi-language support
Alexa Voice Service with Nevo Assist (NEW)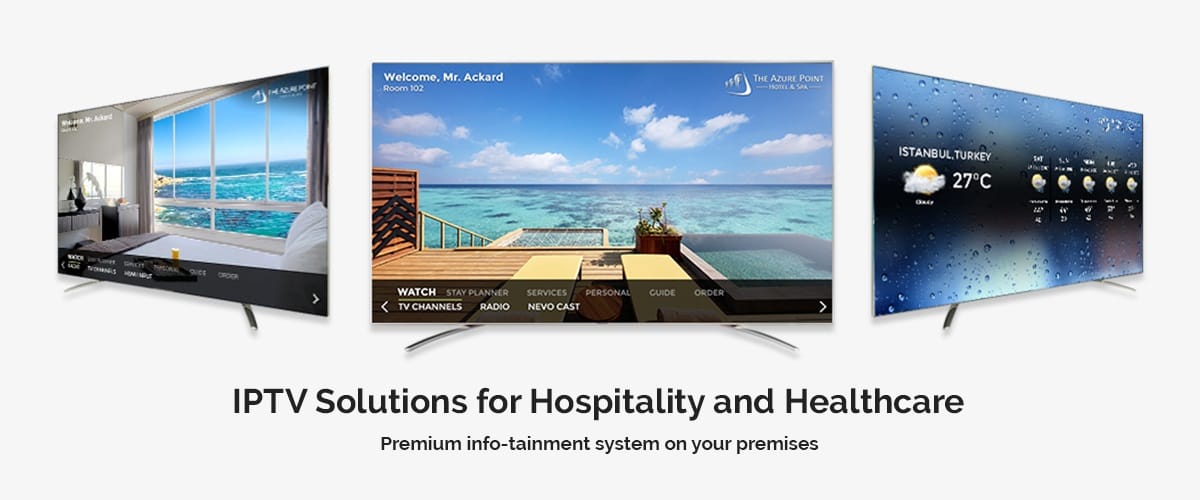 TV Customization
Background Picture customization ( with image and video support )
Welcome greeting message and image with a video player on the screen
Guest name display
Interface language settings for guests' preferred language
TV Options

TV Channels IP multicast streaming (dvb-c, dvb-t and analog channels are supported)
TV Channels listed in categories
Customized TV channel lists for different room and profile
Sorting the channel list by using language and/or usage rating
Favorite TV Channels list support
Audio language and subtitle options
Electronic Program Guide (EPG)
Hospitality Services on TV
Bill View
Wake-Up
DND and MUR
Room Ordering Services
Quick Check-Out
TV Messaging System
Hotel admin profile can send a text message to a room, group, or all guests
Delivering promotional message
Reading/Deleting Message
Automatic TV – ON and welcome greeting message upon check-in
Transferring messages while room move and removing after check out
Staff Services
Maid Staff Access with a pin code in order to update room status on PMS
Log in by pin code to Minibar and Amenities services
Info Service
Hotel and City Guides  ( with text, image, and video features )
Weather Forecast
Airline / Flight Information
RSS / News Feed channels
Twitter support for hotels' twits
TV Shopping 
There are purchase section and billing info details available in the shop category.
Video On Demand
Movie List Category
Trailer/Info pages and Purchase Options
Watched Videos Reporting
Reformating
Integration
Flexible to be integrated with any IP based system or device
Environmental control by RMS integration
Fire alarm integration by BMS
Various API integration for BMS/RMS (OPC interface standard is also supported)
Connection via Media Hubs
Compatible TV Devices : LG, Samsung, Philips or STBs
Internet Radio Features
Multicast Internet Radio Channels
Channel lists in categories
Customized channel list for different rooms and guest profiles
Favorite Channels
Background Moving Image
Management Services
Web-based Administration Tools
Managing TVs / STBs
Device Registration on the IPTV
TV Channel Stream Checker
IP Phone Services Integration
Integrated IP Telephony features over IPTV for making calls
Accept/reject an incoming call from the TV
Guests Survey Service
Customer survey feature and a detailed report file